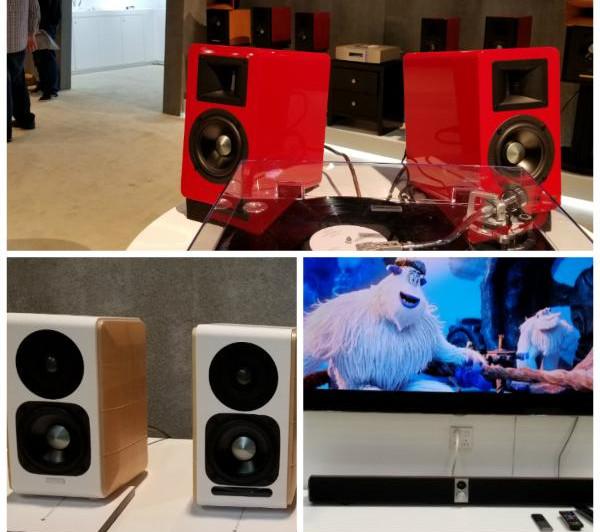 Relative newcomer Edifier is showing off an impressive array of new speakers at CES 2019. As the first serious audio brand from mainland China to make an impact on the world market, the brand is probably making some of the older, more established brands a bit nervous.
The A300 is the top-of-the-line speaker system in the AirPulse series. Edifier partnered with musician and audio designer Phil Jones on the entire AirPulse lineup. These active bookshelf monitors have a frequency response up to 40kHz from a horn-loaded ribbon tweeter; bass response is 40Hz. The A300 has a 6.5-inch mid-range woofer with a 50mm ribbon voice coil. The speaker pair has a variety of input options: AUX, RCA, optical, coaxial, USB, balanced inputs and Bluetooth 4.1. It has a wireless remote, although bass, treble and volume controls are available on the back of one of the speakers. Optional stands are available. The A300 are currently available for $1100.
The B8A WiFi Soundbar brings hands-free convenience to the home theater with Alexa compatibility. The B8A uses a 25mm tweeter and a 70mm midrange, and the soundbar comes with an 8-inch wireless subwoofer. Total output is 154-watts RMS. There is an HDMI/ARC input and it can also be connected via optical, coaxial, line-in, AUX, or via Bluetooth 4.1. Pricing is unavailable at this time but it will be released in Q1 of 2019.
The S90HD is a 4.1 channel soundbar that has Dolby and DTS processing, and also includes a wireless sub and two wireless rear surround speakers. Total power output is 134-watts (RMS) and the frequency response is 40Hz – 20kHz. The system will retail for $909 when released in Q1, 2019.
Also new at CES is the S1000A Alexa smart speaker. With a 5.5-inch bass speaker, it has quite an impressive bass sound. It will be available in the spring; price is unavailable at this time.
Edifier is introducing their first true wireless headphones at CES. The TWS2 are independent earbuds designed to fit both securely and comfortably. They have a playback time of 3 hours, but can get an extra 9 hours from the docking case. They have an IPX4 splash-resistant rating. The price isn't available at this time, but the company claims they're an affordable wireless option.
Edifier is also showing the new S880DB desktop monitor pair. Luckily for me, I had a chance to audition these speakers for a week before CES. I have to admit, I was duly impressed. They're affordable at $300, but they have a full, rich sound that rivals the A300, their expensive big brother. With separate woofer and tweeter, this active system has a natural, accurate sound. Stereo imaging is wide – the speakers come with a 6-foot connecting cable.
There is an AUX input, PC, USB digital audio input, coaxial, optical, and Bluetooth 4.1 for source selections. Bass, treble and volume can be controlled via knobs on the back of the right speaker. There is also a remote control. The frequency response is 55Hz – 20kHz, with the amplifier providing 24 watts RMS.
The remote has four preset EQ curves, but the "Monitor" setting provided the most accurate, realistic sound. I questioned the need for a remote when listening via Bluetooth but quickly realized how convenient it was. I used the S880 to play music from my phone while I was working out. My phone was streaming Spotify Prime, but it was also displaying my workout app. I loved being able to control the volume and change tracks without having to switch apps on my phone.
Edifier might be a relative newcomer into the audio market, but they're doing it right. Make quality products with impressive features and most importantly, impressive sound.

Read more at https://www.soundandvision.com/content/edifiers-debuts-active-speakers-a300-and-s880db-stealing-spotlight#07ITF1hQEhp7dp8Y.99